Smartwatches are the latest gadget to join the mainstream. Being developed for years, these devices have had a long evolutionary path from early ABC watches to full-fledged compact smartwatches we know today. That being said, buying one hasn't become easier. In fact, it has become more difficult.
With so many features available, the entire experience could be overwhelming. We've put together this short guide in an effort to help you narrow down your search and find the perfect smartwatch!
The Trifecta of Modern Smartwatches
Modern smartwatches have come a long way since their origins. So much so that models currently available are essentially compact smartwatches you wear around your wrist. Such functionality means that you're getting plenty of features packed into a single, wearable device.
That being said, we can divide these features into three main categories:
Communication
Fitness Tracking
Apps
Communication
The first thing to look for in a smartwatch is its ability to communicate with your smartphone. More specifically, not all smartwatches will work with all phones. Apple's smartwatch is notorious for working exclusively with iPhones. On the other hand, you have Android-based smartwatches that will work with just about anything.
Smartwatches can be helpful devices if you choose your OS right. Message forwarding, notification syncing, and call forwarding are an essential part of using a smartwatch, so make sure that your device of choice is compatible with your phone. Also, Read – How To Become A Debutante
Fitness Tracking
Fitness trackers have become increasingly popular lately. The ability to track your heart rate, movement and many other metrics has pushed people to chase a healthier lifestyle. Naturally, such features were the first ones to be integrated into modern smartwatches.
Once again, your choice of apps and fitness tracking features will depend on the operating system you choose. This applies to both smartwatches and hybrid watches — helpful devices that are geared toward those who appreciate a more classic look. In fact, fitness tracking is fairly developed on both of these types of watches.
As far as individual fitness tracking features go, you'll want to get a watch that offers the following:
Heart rate monitoring
Physical activity tracking
Ability to differentiate between different activities
Sleep pattern monitoring and analysis
Blood pressure monitoring
These features will give you the most well-rounded fitness tracking experience, as well as the most accurate picture of what's going on with your body.
Applications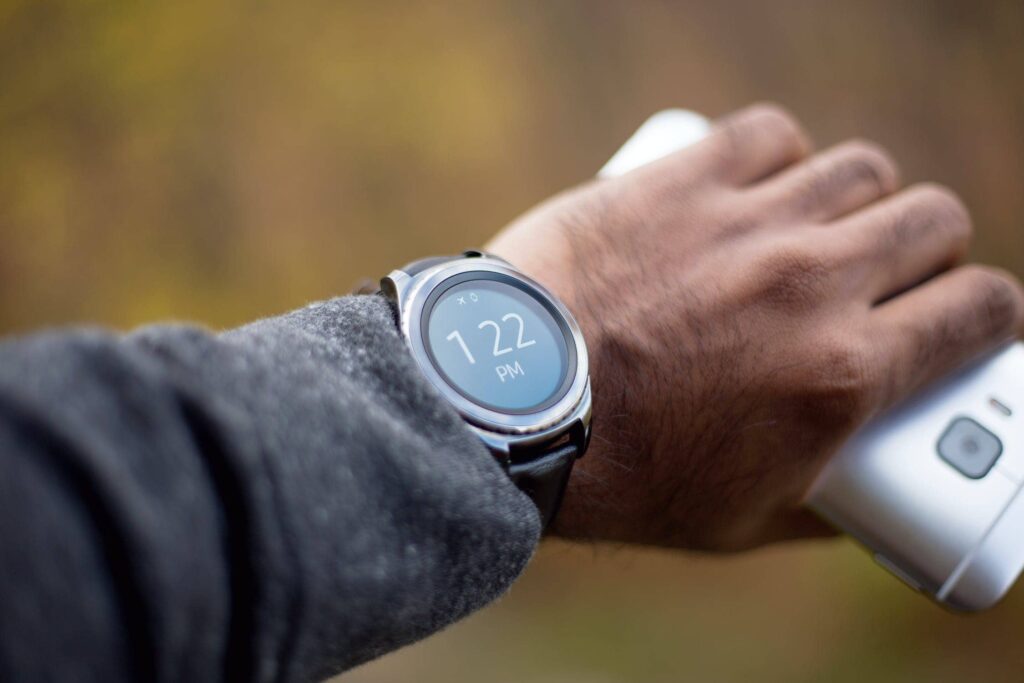 The entire idea behind smartwatches was to create a smartphone you can wear on your wrist. Since apps are an integral part of the smartphone experience, they are the fundamental part of smartwatches as well.
That being said, the available selection of apps is still somewhat limited as far as smartwatches go. In fact, different operating systems have slightly different apps. Apple's highly regulated app market means that you're limited only to applications that have been vetted and approved by this company.
On the other hand, Android-based smartwatches offer a bit more flexibility in this regard, with Google Play Store. Again, you'll want to make sure that your watch is compatible with your phone before making your decision final. Suggested – What Is The Difference Between Neutral & Stability Running Shoes?
Design
With the technical stuff out of the way, we need to mention design as a feature that might determine which device you'll get. Your average modern smartwatch doesn't really have the appearance of a watch — at least not in the usual sense.
Most modern smartwatches look more like mini smartphones with a wristband than anything else. After all, the rectangular shape works best for viewing apps and displaying data.
There is an alternative, though. Hybrid watches exist as a compromise aimed at those who can't deal with the non-traditional appearance of modern smartwatches. A hybrid watch sacrifices some of the functionality but offers a much more conservative design. You can find hybrid models that have mechanical components merged with digital displays.
As far as features go, you'll generally find that hybrid watches are closer to old school ABC watches with a few additional options. As mentioned above, most of these devices have rather developed fitness tracking apps. However, don't expect more demanding apps to work on a hybrid watch.
Finding the Right Model
At the end of the day, finding the right smartwatch model comes down to figuring out which models work with your smartphone as well as which features you absolutely need to have in your wearable device. Balance these two factors with your budget, and you should be able to find a smartwatch that meets most, if not all of your needs.
Related – Qualities to Look for When Buying Leather Products