Hardcore gamers are hard to impress when it comes to gifting them gaming gear. After all, they are notoriously picky about the type of accessories they want to use for playing their favorite games, whether for Esports or for fun. Instead of giving them something that they would first test and then use, we've got you covered with 4 brilliant ideas that will make sure they feel surprised to get such a brilliant gift from you even if you're not a gamer.
Without further ado, let's get started!
1. RGB Lighting
Gamers love to have a mesmerizing gaming room or gaming table setup that they can have to themselves. One of the key accessories that they love is an RGB lighting setup that glows the room with personalized colors to make their rooms more gamer-friendly. It's one of those gifting ideas that your gaming friends will love to see and would not care much about choosing themselves.
For this amazing idea, you can choose high-quality RGB lighting strips and equipment and install them in your gamer friend's or partner's room in their absence. You can choose a variety of RGB setups to present online or use your creativity to design the room yourself. Even if it's just about embellishing a gaming table, RGB lighting can do wonders. Once your gamer friend comes back to look at the makeover, be ready to click pictures of his expression to cherish those valuable memories.
2. Gaming Mat
Gamers need to ensure high performance, accuracy, and control while playing games for entertainment or competitions. That's why they use gaming mats, which will offer them maximum efficiency while enjoying playing games. Most gamers would prefer using the same mat for months or years without changing them. Chances are that such mats are not even cleaned thoroughly, leading to unhygienic conditions. So, it's always nice to have spare gaming mats to keep changing, which also turns out to be an amazing gifting idea. The professionals at yourplaymat.com have been known to provide an excellent range of gaming mats with customizable features, which your gamer friend is going to adore. Such mats are designed to be durable, non-slippery, and capable of offering great control. Moreover, a custom image on these mats, which come in variable shapes and sizes, is going to remind your gaming friend of your love and affection towards him whenever he plays games.
3. Power Strip
Imagine your gaming friend coming to his room to realize how neat and clean the wiring and gaming setup has become in his absence. That's exactly what a power strip is capable of doing. A power strip offers gamers multiple power ports (including USB ports in some models) to help organize the power supply near the gaming console or gaming PC without the need for multiple wire extension devices. That way, all the wires behind the console or PC can be tied and placed without causing jumbled mayhem.
These devices are quite practical, and gamers can't get enough of these helpful tools. However, make sure you take the help of an expert when removing plugging and removing wires from the gaming setup if you have zero clues of how to do it yourself. Furthermore, remember to buy high-quality power strips that can withstand the heavy voltage of a gaming console or a PC.
4. Anti-Spill Mug For Beverages
Gamers have to play games for hours, for which they make sure they have the energy by drinking coffee, energy drinks, and other beverages. While playing games, they often keep their drinks in glasses, mugs, bottles, or cans near their gaming keyboards, or console tables, which is prone to mishaps – leading to spilling the drinks over the table. Worst-case scenario – the drink can damage their expensive machines and other gadgets placed on the table. To avoid that, an anti-spill mug would be a decent gift that your gamer friend will surely love. Some spill mugs even come with self-warming components that will keep their coffees warm.
It can be hard to decide how you can surprise your gaming friend or partner.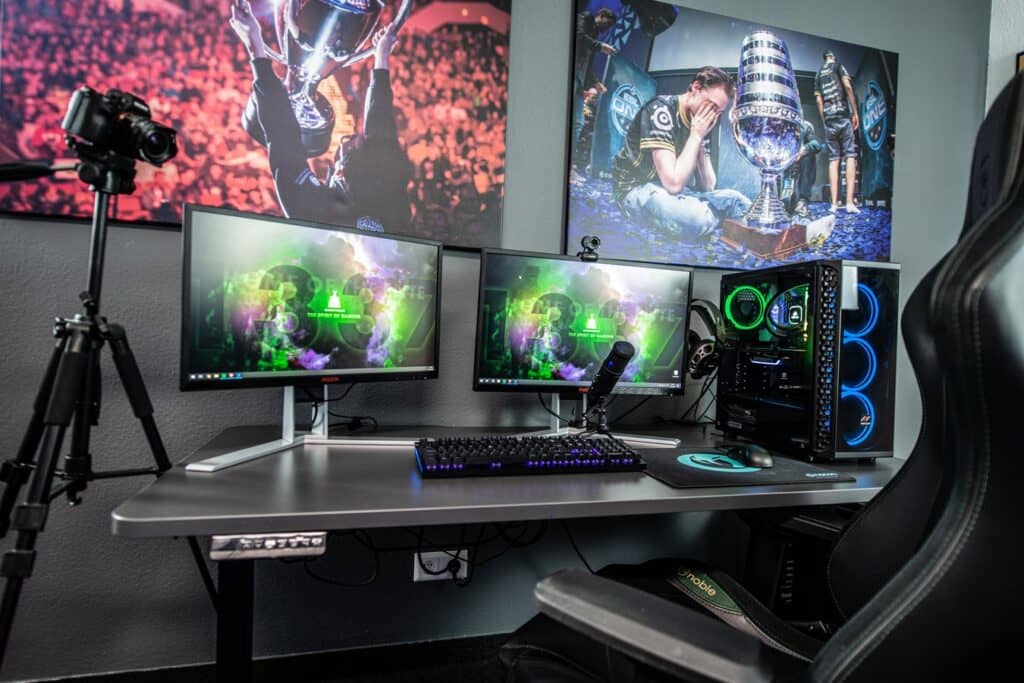 That's why the above 4 amazing ideas could come in handy to ensure that they love your gifts without being too picky. Gamers can be very particular about choosing gaming gear and accessories, but the ones mentioned above can still be manageable on your own without consulting them. As a result, they will be surprised to witness your love and consideration to help them in their gaming hobby or career. So, what gift are you planning to give to your gamer friend?