Fidget Cube Game
Fidget Cube is a small hand-held device designed by Matthew and Mark McLachlan, brothers and co-founders of the Colorado-based design studio Antsy Labs. It has sensory tools on all sides: a switch, gears, a rolling metallic ball, a small video game, a small plastic joystick, a spinning disk, a worry stone, and seven buttons.
Fidget Cube is a desk toy for anyone who likes to fidget. 30 seconds of your time could make the difference in growing the Fidget Cube community. Hit one of the buttons below and tag a friend or coworker who can't stop fidgeting!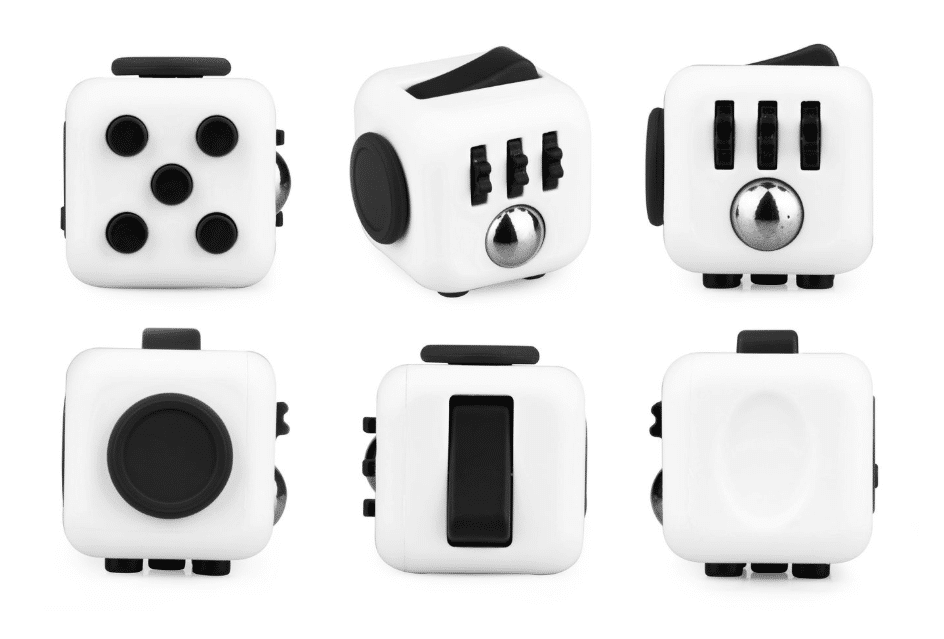 An unusually addicting, high-quality desk toy designed to help you focus. Fidget at work, in class, and at home in style. Fidget Cube has six sides. Each side features something to fidget with: Click. Glide. Flip. Breathe. Roll. Spin.
Antsy Labs Fidget Cube
Your road to fidget freedom is here
Available in 4 colors (black, red, aqua and berry) you can choose one for every mood.
Material: Metal, plastic
Suggested Age: 6 Years and Up
CPSC Choking Hazard Warnings: Choking_hazard_small_parts
Specially designed for restless hands, the six unique sides fulfill all your fidgeting needs. Glide, flip, roll and click your way into focus
Made with high-quality plastic the original ZURU Fidget Cube by Antsy Labs is strong, durable and safe for kids and adults alike. Beware of fakes and copies
This top trending toy and viral sensation is a stylish gadget for at work, in class or at home
Great gift idea for friends or family who can't keep their fingers still
Available in 8 colors and with accessories such as the ZURU Fidget Prism to fidget on the go
12 Sided Fidget Cube
The latest 12 sided fidget cubes from Minilopa, this toy works to keep your fingers and minds engaged. You will find improvement in stress and anxiety with the help of this fidget dodecagon. This fun toy comes with 12 sides to keep you busy. It functions as an ideal gift for flickers, clickers, spinners, and rollers. This cube rejuvenates your body and mood to concentrate on your work in a better way.
Features:
This Minilopa cube comes with buttons, gears, joystick, soothes, disk, silicone balls, switch, and stress balls.
It works to relieve adult stress and facilitates kid recognition in a better way.
The colors present on this cube resemble the picture and it would fit perfectly in an adult hand.
Every feature of this fidget cube is excellently designed and well made. You can fit this cube in your keychain.
With the help of the silicone handle strap, you can hold it easily.
Original Fidget Cube
Fidget Cube has six sides. Each side features something to fidget with: Click. Glide. Flip. Breathe. Roll. Spin. Fidget Cube offers numerous ways to satisfy your fidgeting impulses, with features that range from totally silent (like the Breathe side) all the way to others that give a satisfyingly tactile and audible response (like the Click side).
Read Also: How To Become A Debutante
Fidget Cube Collectibles feature a character likeness, which also doubles as the Spin side of the Fidget Cube. Build your collection and display the entire Marvel Fidget Cube series! With a variety of colorways to choose from, you can find a Fidget Cube that matches your style.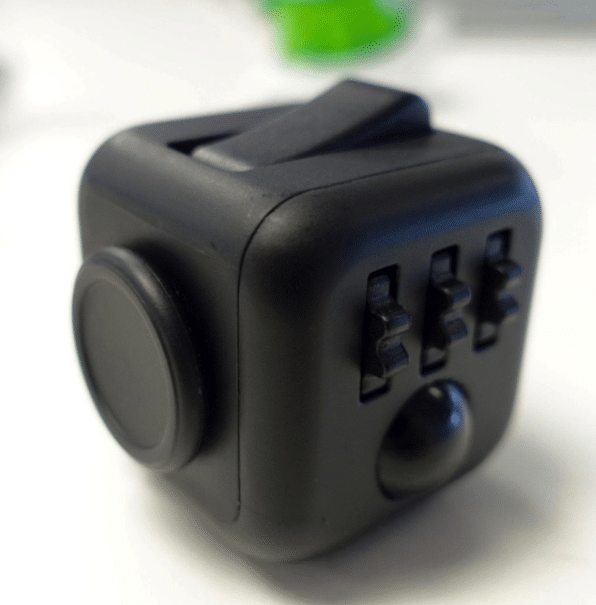 Less than a month after starting a business, a 24-year-old entrepreneur CNBC has agreed to call "Jack" wired $70,000 to a factory in Shenzhen, China, praying that the money wasn't going to disappear.
Weeks later, 15,000 plastic toy cubes with joysticks and clickers on their sides, designed to help people who fidgeted too often, arrived. A whole team exhaled, excited about the possibility of making $345,000 in just two months.
Fidget Cube Kickstarter
To the tune of $6,465,690 million from 154,926 backers. It's currently the 9th most funded project EVER on Kickstarter and the second-highest backed the project as well. When it first launched on Kickstarter they received a bunch of friendly press — short, bloggy articles that summarized it in under 300 words.
"If it holds up, it could become an indispensable desk companion," wrote TechCrunch. "If you fidget, this is the perfect solution to boring conference calls, terrible meetings, and e-mail overload," wrote Cool Material.
What Is A Fidget Cube Used For?
It has sensory tools on all sides: a switch, gears, a rolling metallic ball, a small plastic joystick, a spinning disk, a worry stone, and five buttons. The cube is intended to provide an easy way to occupy one's hands and other senses, particularly for self-soothing or children who have a tendency to 'fidget'.
Are Fidget Cubes Good For Anxiety?
But what schools that have issues the bans are missing is how much of a help fidget spinners and cubes can be for students with anxiety, ADHD, and other mental health issues. Yes, they can distract from lessons – but they'll also distract from anxiety or trauma symptoms, and can soothe children with sensory issues.
Do Fidget Cubes Help You Focus?
Fidget cubes, however, work differently. Like other therapeutic fidget toys, they can be just as colorful as spinners, but they're not as stimulating to all the senses. They do allow for some fidgeting, which provides kids with the ability to control their nervous energy with fine motor movement.
How Much Does A Fidget Cube Cost?
Each cube costs $19, although early backers could get one for $14. The cube is a little like a baby toy, but for adult office workers (perhaps they should make a chewable version next?).